SMOK Stick P25 Kit (3000mAh)
SMOK Stick P25 Kit (3000mAh) (EU Edition)
Watch this product and we will notify you once it is back in stock.
SMOK Stick P25 Kit (3000mAh)
SMOK Stick P25 Kit (3000mAh) (EU Edition)
Smok Stick p25 Kit is Smok Stick Prince Kit EU Edition. It includes a powerful combination of 3000mAh battery and TFV12 Prince-Tank, is born to be a legend. It is newly designed, with specil hexagon power button and a carefully carved battery base you can feel how exquisite it is. Stick P25's large battery capacity is the best guarantee for long time vaping and LED indicator on it's body can tell you the specific conditions of itself. The TFV12 Price-Tank has the 2 ml capacity and hyper engines, which can bring you massive vapour.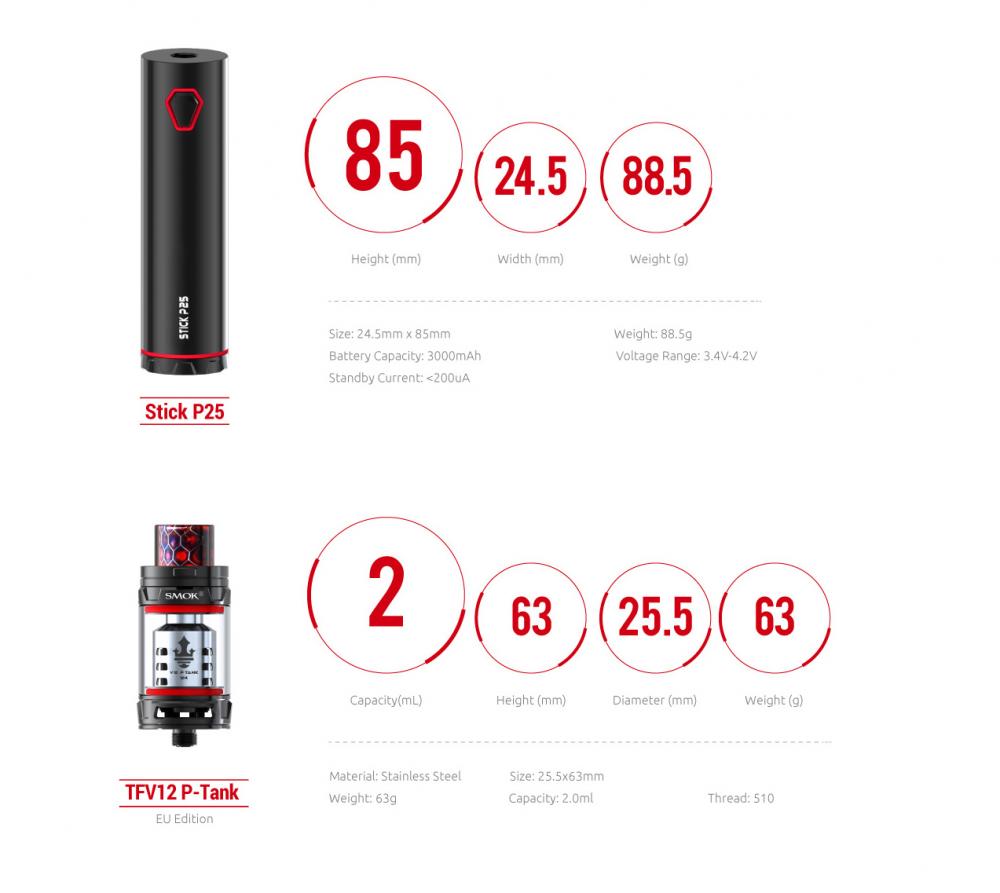 Main Feature:

1. Large built in battery with a capacity up to 3000mAh, powerful and durable.
2. Newly designed hexagon power button and carefully craved battery buttom contribute exqusite apparance.
3. Intelligent LED indicator shows battery status.
4. Provides multiple protections avoid potential risks, including lov voltage protection, short circuit protection, 8 seconds cut-off, ect.
5. Equpped with TFV12 Prince-tank, offering adjustable airflow and 2ml liquid capacity.
Physical Parameter:

Atomizer Capacity: 2ml
Atomizer size: 63 * 25.5mm
Bettery Capacity: 3000mAh
Connection Threading: 510
Packing list:
1 x Stick P25
1 x TFV12 Prince-Tank
1 x V12 Prince-Tank M4 (0.17ohm Quadruple Coils, pre-installed)
1 x V12 Prince-Tank M4 (0.17ohm Quadruple Coils)
1 x USB Cable
1 x User manual
1 x Set of Spare Parts